NEW YORK TIMES BESTSELLER • "Extremely funny . . . inspired lunacy . . . [and] over much too soon."—The Washington Post Book World

Nominated as one of America's best-loved novels by PBS's The Great American Read

Seconds before Earth is demolished to make way for a galactic freeway, Arthur Dent is plucked off the planet by his friend Ford Prefect, a researcher for the revised edition of The Hitchhiker's Guide to the Galaxy who, for the last fifteen years, has been posing as an out-of-work actor.
Back on Earth with nothing more to show for his long, strange trip through time and space than a ratty towel and a plastic shopping bag, Arthur Dent is ready to believe that the past eight years were all just a figment of his stressed-out imagination.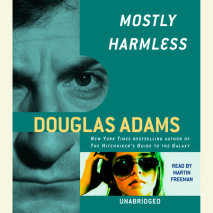 It's easy to get disheartened when your planet has been blown up, the woman you love has vanished due to a misunderstanding about space/time, the spaceship you are on crashes on a remote and Bob-fearing planet, and all you have to fall back on are a few simple sandwich-making skills.
"DOUGLAS ADAMS IS A TERRIFIC SATIRIST."
--The Washington Post Book World
Facing annihilation at the hands of the warlike Vogons is a curious time to have a craving for tea. It could only happen to the cosmically displaced Arthur Dent and his curious comrades in arms as they hurtle across space powered by pure improbability--and desperately in search of a place to eat.
"HYSTERICAL."
--The Philadelphia Inquirer
The unhappy inhabitants of planet Krikkit are sick of looking at the night sky above their heads--so they plan to destroy it. The universe, that is. Now only five individuals stand between the white killer robots of Krikkit and their goal of total annihilation.