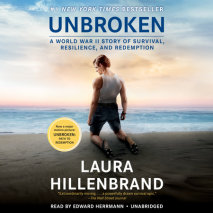 #1 NEW YORK TIMES BESTSELLER • The incredible true story of survival and salvation that is the basis for two major motion pictures. 2014's Unbroken and the upcoming Unbroken. Path to Redemption.

On a May afternoon in 1943, an Army Air Forces bomber crashed into the Pacific Ocean and disappeared, leaving only a spray of debris and a slick of oil, gasoline, and blood.
In this captivating and lavishly illustrated young adult edition of her award-winning #1 New York Times bestseller, Laura Hillenbrand tells the story of a former Olympian's courage, cunning, and fortitude following his plane crash in enemy territory.
Laura Hillenbrand, author of the runaway phenomenon Unbroken, brilliantly re-creates a universal underdog story in this #1 New York Times bestseller.

Seabiscuit was one of the most electrifying and popular attractions in sports history and the single biggest newsmaker in the world in 1938, receiving more coverage than FDR, Hitler, or Mussolini.