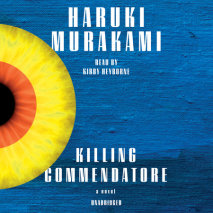 The epic new novel from the internationally acclaimed and best-selling author of 1Q84

In Killing Commendatore, a thirty-something portrait painter in Tokyo is abandoned by his wife and finds himself holed up in the mountain home of a famous artist, Tomohiko Amada.
A dazzling new collection of short stories--the first major new work of fiction from the beloved, internationally acclaimed, Haruki Murakami since his #1 best-selling Colorless Tsukuru Tazaki and His Years of Pilgrimage.

Across seven tales, Haruki Murakami brings his powers of observation to bear on the lives of men who, in their own ways, find themselves alone.
Hear the Wind Sing is the first novel by Haruki Murakami. First published in the June 1979 issue of Gunzo, one of the most influential literary magazines in Japan, it was published one month later as a book.

Hear the Wind Sing is the first book in the "Trilogy of the Rat," a series of independent novels that include Pinball, 1973 and A Wild Sheep Chase, followed by the epilogue Dance Dance Dance.
Published in 1980 by Japanese author Haruki Murakami, Pnball, 1973 is the second book in the "Trilogy of the Rat" series. It is preceded by Hear the Wind Sing (1979) and followed by A Wild Sheep Chase (1982), and is the second novel written by Murakami.
NATIONAL BESTSELLER

In the spring of 1978, a young Haruki Murakami sat down at his kitchen table and began to write. The result. two remarkable short novels—Hear the Wind Sing and Pinball, 1973—that launched the career of one of the most acclaimed authors of our time.