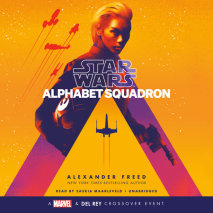 On the verge of victory in what seemed an endless war, five former rebel pilots transform from hunted to hunters as they strike out against the vestiges of Empire. Set after Return of the Jedi, Alphabet Squadron follows a unique team, each flying a different class of starfighter as they struggle to end their war once and for all.
NEW YORK TIMES BESTSELLER • Go beyond the film with a novelization featuring new scenes and expanded material.

As the shadows of the Empire loom ever larger across the galaxy, so do deeply troubling rumors. The Rebellion has learned of a sinister Imperial plot to bring entire worlds to their knees.
NAMED ONE OF THE BEST BOOKS OF THE YEAR BY BUZZFEED • A companion novel inspired by Star Wars. Battlefront, this action-packed adventure follows a squad of soldiers caught in the trenches of the ultimate galactic war between good and evil.