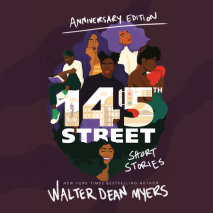 A salty, wrenchingly honest collection of stories set on one block of 145th Street. We get to know the oldest resident; the cop on the beat; fine Peaches and her girl, Squeezie; Monkeyman; and Benny, a fighter on the way to a knockout. We meet Angela...
"Visionary. This book should be in every reader's hands." –JACQUELINE WOODSON, National Book Award-winning author of Brown Girl Dreaming Young heroes decide that they are not too young or too powerless to change their world in this grippi...
During a long, hot July in 1863, the worst race riots the United States has ever seen erupt in New York City. Earlier that year, desperate for more Union soldiers, President Abraham Lincoln instituted a draft–a draft that would allow the wealth...
BONUS FEATURE: Afterword read by the authorA Harlem drugstore owner was shot and killed in his store, and the word is that 16-year-old Steve Harmon served as the lookout. Was he involved or was he simply in the wrong place at the wrong time? An amate...