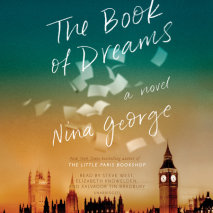 The next novel from Nina George, author of the blockbuster bestsellers The Little Paris Bookshop and The Little French Bistro, about the spaces between lives and realities and loves both lost and coming home

When Henri ends up in a coma after rescuing a young girl from the Thames, his ex-girlfriend, Eddie, discovers that she is listed as Henri's next-of-kin in his living will.
NATIONAL BESTSELLER

From the New York Times and internationally bestselling author of The Little Paris Bookshop, an extraordinary novel about self-discovery and new beginnings.

Marianne is stuck in a loveless, unhappy marriage.
"There are books that are suitable for a million people, others for only a hundred. There are even remedies—I mean books—that were written for one person only…A book is both medic and medicine at once. It makes a diagnosis as well as offering therapy.