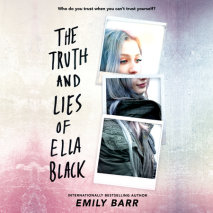 From the author of the "unputdownable" international hit The One Memory of Flora Banks comes a fast-paced cross-continental journey of identity, family, darkness and light, and the ways in which we define ourselves.

Ella Black has always had dark inclinations.
It's not a lie if you can't remember the truth.

"Mesmerizing, electric, and achingly lovely, The One Memory of Flora Banks is unforgettable. One of the best YA novels I've read in a very long time.