Books 4-6 in Shannon Hale & Dean Hale's New York Times bestselling series. Who says princesses don't wear black.

The Princess in Black Takes a Vacation. After battling monsters all night, a sleepy Princess in Black decides that she needs a vacation.
It's mayhem at the science fair. A squishy goo monster is a challenge for the Princess in Black--but luckily some science-loving princesses are on hand to help.

Princess Magnolia is excited. Excited and nervous. She's going to the Interkingdom Science Fair today to present her poster about seeds and plants, and when she arrives, she sees that her friends are there too.
Doreen Green, age fourteen, is a little too busy wiping out crime in her suburban New Jersey neighborhood to focus on her overdue homework. That's because she also happens to be Squirrel Girl, a bushy-tailed, squirrel-powered Super Hero.

After foiling the nefarious plot of an amateur Super Villain, Squirrel Girl is finally finding her groove--and group texting with the Avengers, like, all the time.
Noseholes and elephants. A pet-eating monster interrupts a perfect playdate with Princess Sneezewort . . . but who is that new masked avenger.

Princess Magnolia and Princess Sneezewort have plans . . . mysterious plans, like a princess playdate.
Who Runs the World. Squirrels.

Fourteen-year-old Doreen Green moved from sunny California to the suburbs of New Jersey. She must start at a new school, make new friends, and continue to hide her fluffy tail. Yep, Doreen has the powers of .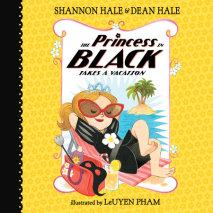 Even monster-battling princesses get tired sometimes. But a peaceful time away is hard to find as the humorous New York Times best-selling series continues.

After battling monsters all night, a sleepy Princess in Black decides that she needs a vacation.
The Princess in Black. Princess Magnolia is having hot chocolate and scones with Duchess Wigtower when . . . Brring. Brring. The monster alarm. Stopping monsters is no job for prim and perfect Princess Magnolia. But luckily Princess Magnolia has a secret.