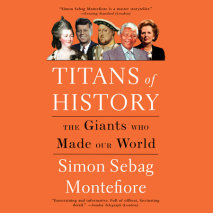 In this inspiring, horrifying, and accessible collection of short, entertaining, and vivid life stories, Simon Sebag Montefiore—one of our pre-eminent historians and a prizewinning writer—presents the giant characters who have changed the course of world history.
The Romanovs were the most successful dynasty of modern times, ruling a sixth of the world's surface for three centuries. How did one family turn a war-ruined principality into the world's greatest empire. And how did they lose it all.
Jerusalem is the universal city, the capital of two peoples, the shrine of three faiths; it is the prize of empires, the site of Judgement Day and the battlefield of today's clash of civilizations. From King David to Barack Obama, from the birth of Judaism, Christianity and Islam to the Israel-Palestine conflict, this is the epic history of three thousand years of faith, slaughter, fanaticism and coexistence.