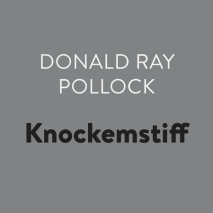 In this unforgettable work of fiction, Donald Ray Pollock peers into the soul of a tough Midwestern American town to reveal the sad, stunted but resilient lives of its residents.

Spanning a period from the mid-sixties to the late nineties, the linked stories that comprise Knockemstiff feature a cast of recurring characters who are woebegone, baffled and depraved—but irresistibly, undeniably real.
From Donald Ray Pollock, author of the highly acclaimed The Devil All the Time and Knockemstiff, comes a dark, gritty, electrifying (and, disturbingly, weirdly funny) new novel that will solidify his place among the best contemporary American authors.
From the acclaimed author of Knockemstiff—called "powerful, remarkable, exceptional" by the Los Angeles Times—comes a dark and riveting vision of America that delivers literary excitement in the highest degree.