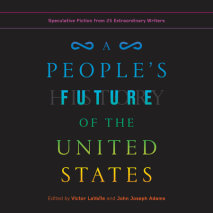 What if America's founding ideals finally became reality. A future of peace, justice, and love comes to life in original speculative stories that challenge oppression and embrace inclusiveness--from N. K. Jemisin, Charles Yu, Jamie Ford, and more.
"If the literary gods mixed together Haruki Murakami and Ralph Ellison, the result would be Victor LaValle."—Anthony Doerr, author of All the Light We Cannot See

"A dark fairy tale of New York, full of magic and loss, myth and mystery, love and madness.