Europe has fallen. Pearl Harbor is in flames. Enter. the Eighth.

In 1941 the RAF fought a desperate battle of survival against the Luftwaffe over Britain. Then, from across the Atlantic, came a new generation of American pilots, gunners, and bombardiers, a new generation of flying machines called the B-17 Flying Fortress, the B-24 Liberator, the P-47 Thunderbolt, and the P-51 Mustang fighter.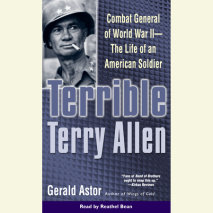 Terry de la Mesa Allen's mother was the daughter of a Spanish officer, and his father was a career U.S. Army officer. Despite this impressive martial heritage, success in the military seemed unlikely for Allen as he failed out of West Point—twice—ultimately gaining his commission through Catholic University's R.