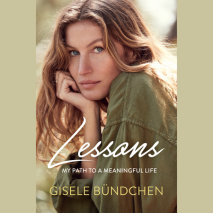 Supermodel and philanthropist Gisele Bündchen shares personal stories, insights, and photos to explore lessons that have helped shape her life.

Gisele Bündchen's journey began in southern Brazil, growing up with five sisters, playing volleyball, and rescuing the dogs and cats around her hometown.
"Stupendous . . . a novel that seems to have been created in real time, reflecting with perfect comedy and horrible tragedy exactly what America feels like right this minute."—Elizabeth Gilbert

The bestselling author of Super Sad True Love Story returns with a biting, brilliant, emotionally resonant novel very much of our times.
In this frank and fearless novel, acclaimed writer Hanan al-Shaykh follows the tumultuous lives and sometimes shocking choices of women successful in their careers but unlucky in love.

On a sunny beach on the Italian Riviera, two thirtysomething women, Yvonne and Huda, relax by the sparkling sea.
Best-selling author Rick Riordan introduces this adventure by Roshani Chokshi about twelve-year-old Aru Shah, who has a tendency to stretch the truth in order to fit in at school.

While her classmates are jetting off to family vacations in exotic locales, she'll be spending her autumn break at home, in the Museum of Ancient Indian Art and Culture, waiting for her mom to return from her latest archeological trip.
"I almost fell out of bed laughing."
-–Kevin Kwan, author of Crazy Rich Asians

"What Kevin Kwan did for rich people problems, Diksha Basu does for trying-to-be-rich-people problems."
--People

A People Pick
Entertainment Weekly's Must-List
A TIME Magazine Pick
Rolling Stone's Culture Index Pick
One of Esquire's Best 30 Books of 2017


A heartfelt comedy of manners, Diksha Basu's debut novel unfolds the story of a family discovering what it means to "make it" in modern India.
A gripping tale of adventure and searing reality, Lucky Boy gives voice to two mothers bound together by their love for one lucky boy.

"Sekaran has written a page-turner that's touching and all too real."—People

"A fiercely compassionate story about the bonds and the bounds of motherhood and, ultimately, of love.