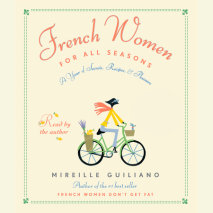 BONUS FEATURE. Select recipes included on enhanced CD.

For the legions of fans who asked for seconds after devouring French Women Don't Get Fat, a charming and practical guide to adding some joie to your vie and to your table, every day of the year.
Stylish, convincing, wise, funny–and just in time. the ultimate non-diet book, which could radically change the way you think and live.

French women don't get fat, but they do eat bread and pastry, drink wine, and regularly enjoy three-course meals.