From the National Book Award-winning, bestselling author of Three Junes comes "an engrossing, richly drawn and exquisitely told story of small-town residents grappling with the difficulties of changing times" (People).When two unexpected visitors arr...
In Julia Glass's fifth book since her acclaimed novel Three Junes won the National Book Award, she gives us the story of an unusual bond between a world-famous writer and his assistant—a richly plotted novel of friendship and love, artistic amb...
In this richly detailed novel about the quest for an unknown father, Julia Glass brings new characters together with familiar figures from her first two novels, immersing readers in a panorama that stretches from suburban New Jersey to rural Vermont ...
In a historic farmhouse outside Boston, seventy-year-old Percy Darling is settling happily into retirement: reading novels, watching old movies, and swimming naked in his pond. His routines are disrupted, however, when he is persuaded to let a locall...
From the author of the best-selling Three Junes comes an intimate new work of fiction: a tale of two sisters, together and apart, told in their alternating voices over twenty-five years. Louisa Jardine is the older one, the conscientious student, pre...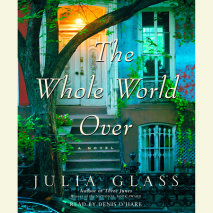 From the author of the beloved novel Three Junes comes a rich and commanding story about the accidents, both grand and small, that determine our choices in love and marriage. Greenie Duquette, openhearted yet stubborn, devotes most of her passionate ...
Three Junes is a vividly textured symphonic novel set on both sides of the Atlantic during three fateful summers in the lives of a Scottish family. In June of 1989, Paul McLeod, the recently widowed patriarch, becomes infatuated with a young American...