"A time-jumping, head-tripping odyssey." —The Millions "A bracing swim in the waters of science, technology and fiction." —Washington Post "A thrilling journey of ideas." —Boston GlobeFrom the acc...
James Gleick, the author of the best sellers Chaos and Genius, now brings us a work just as astonishing and masterly: a revelatory chronicle and meditation that shows how information has become the modern era's defining quality—the blood,...
James Gleick's groundbreaking bestseller introduces to a whole new audience the story of one of the most significant waves of scientific knowledge in our time. By focusing on the key figures whose genius converged to chart an innovative directio...
From the bestselling, National Book Award-nominated author of Genius and Chaos, a bracing new work about the accelerating pace of change in today's world.Most of us suffer some degree of "hurry sickness." a malady that has launched us into the "epoch...
To his colleagues, Richard Feynman was not so much a genius as he was a full-blown magician: someone who "does things that nobody else could do and that seem completely unexpected." The path he cleared for twentieth-century physics l...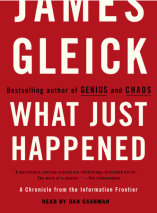 Here's some of what just happened: Millions of ordinary, sensible people came into possession of computers. These machines had wondrous powers, yet made unexpected demands on their owners. Telephones broke free of the chains that had shackled t...