From the Mixed-Up Files of Mrs. Basil E. Frankweiler meets The Apothecary in this time-bending mystery from bestselling author Carol Goodman.

The day Japan bombs Pearl Harbor, four thirteen-year-olds converge at the Metropolitan Museum of Art where an eccentric curator is seeking four uncommonly brave souls to track down the hidden pages of the Kelmsbury Manuscript, an ancient book of Arthurian legends that lies scattered within the museum's collection, and that holds the key to preventing a second attack on American soil.
Avaline Hall is no ordinary girl.

She's a student at Blythewood Academy, an elite boarding school that trains young women to defend human society from the shadowy forces that live among us. After the devastating events of her first year at Blythewood, Ava is eager to reunite with her friends—and with Raven, the compelling but elusive winged boy who makes her pulse race.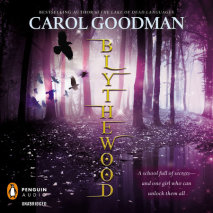 Welcome to Blythewood.
At seventeen, Avaline Hall has already buried her mother, survived a horrific factory fire, and escaped from an insane asylum. Now she's on her way to Blythewood Academy, the elite boarding school in New York's mist-shrouded Hudson Valley that her mother attended—and was expelled from.