From the New York Times bestselling author of The Aviator's Wife comes a story of courage on the prairie, inspired by the devastating storm that struck the Great Plains in 1888, threatening the lives of hundreds of immigrant homesteaders, espec...
A captivating novel based on the story of the extraordinary real-life American woman who secretly worked for the French Resistance during World War II—while playing hostess to the invading Germans at the iconic Hôtel Ritz in Paris—f...
From the New York Times bestselling author of The Swans of Fifth Avenue and The Aviator's Wife, a "rich exploration of two Hollywood friends who shaped the movies" (USA Today)—screenwriter Frances Marion and supersta...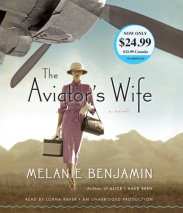 In the spirit of Loving Frank and The Paris Wife, acclaimed novelist Melanie Benjamin pulls back the curtain on the marriage of one of America's most extraordinary couples: Charles Lindbergh and Anne Morrow Lindbergh. "The history [i...
NEW YORK TIMES BESTSELLER • The author of The Aviator's Wife returns with a triumphant new novel about New York's "Swans" of the 1950s—and the scandalous, headline-making, and enthralling friendship betwee...
Melanie Benjamin introduces readers to the lavish, heady world of her novel The Swans of Fifth Avenue with this exclusive ebook short story! In this enchanting prequel, New York society and Hollywood royalty collide during the doomed and decadent lif...
In her national bestseller Alice I Have Been, Melanie Benjamin imagined the life of the woman who inspired Alice in Wonderland. Now, in this jubilant new novel, Benjamin shines a dazzling spotlight on another fascinating female figure whose story has...
Few works of literature are as universally beloved as Alice's Adventures in Wonderland. Now, in this spellbinding historical novel, we meet the young girl whose bright spirit sent her on an unforgettable trip down the rabbit hole–and the ...