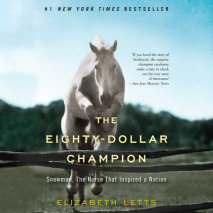 #1 NEW YORK TIMES BESTSELLERNovember 1958: the National Horse Show at Madison Square Garden in New York City. Into the rarefied atmosphere of wealth and tradition comes the most unlikely of horses—a drab white former plow horse named Snowman&md...
This richly imagined novel tells the story behind The Wonderful Wizard of Oz, the book that inspired the iconic film, through the eyes of author L. Frank Baum's intrepid wife, Maud."A breathtaking read that will transport you over the rai...
NEW YORK TIMES BESTSELLER • From the author of The Eighty-Dollar Champion, the remarkable story of the heroic rescue of priceless horses in the closing days of World War IIWINNER OF THE PEN AWARD FOR RESEARCH NONFICTION In the chaotic last days...