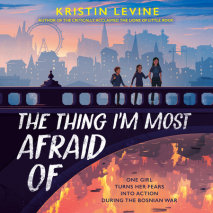 A new middle-grade tale from critically acclaimed, award-winning author Kristin Levine about facing your fears, set in Vienna during the Bosnian genocide.Most twelve-year-olds would be excited to fly to Austria to see their dad for the summer but the...
A mysterious treasure hunt helps to heal a broken family in critically acclaimed author Kristin Levine's first contemporary tale—perfect for fans of Wendy Mass and Jennifer L. Holm   Claudia Dalton's father has disappeared. Wha...
Though he thinks of himself as a cowboy, Tommy is really a bully.  He's always playing cruel jokes on classmates or stealing from the store. But Tommy has a reason: life at home is tough. His abusive mother isn't well; in fact, she may be men...
Everything's changing for twelve-year-old Marlee. Her brother's gone off to college and her sister's moved out of the room they've shared since Marlee was born. To Marlee, it feels like her whole world's falling apart. &...
Harry "Dit" Sims and Emma Walker are the unlikeliest of friends. Emma, the educated twelve-year-old daughter of Moundville's new postmaster, is all wrong as far as Dit's concerned. Dit was told the new postmaster would have a ...