From the bestselling author of The Lamb's Supper comes an illuminating work on the Catholic Eucharist and its link to the Jewish Passover meal.   "Read this book. And don't just read it. Pray about it. Reflect on it. And share i...
What could be more familiar than the Christmas story--and yet what could be more extraordinary? The cast of characters is strange and exotic: shepherds and magicians, an emperor and a despot, angels, and a baby who is Almighty God. The strangeness ca...
Angels and saints. Catholics tend to think of them as different from the rest of us. They're cast in plaster or simpering on a holy card, performing miracles with superhero strength, or playing a harp in highest heaven. Yet they are very near t...
From the bestselling author of The Lamb's Supper and Signs of Life comes an illuminating work that unlocks the many mysteries of the Catholic sacrament of the Eucharist.Long before the New Testament was a document, it was a sacrament. Jesus called th...
As seen on EWTN, bestselling author Scott Hahn unveils the mysteries of the Mass, offering readers a deeper appreciation of the most familiar of Catholic rituals.Of all things Catholic, there is nothing that is so familiar as the Mass. With its uncha...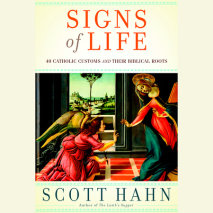 In the appealing conversational tone that has won him millions of devoted readers, Hahn presents the basic tenets of Church teachings, clears up common misconceptions about specific rituals and traditions, and responds thoughtfully to the objections ...