"Hay pocos libros que se convierten en manuales esenciales de vida. Este es uno de ellos". — Financial Times   En El poder de los hábitos, el premiado periodista Charles Duhigg nos lleva al límite de los descubrim...
"La productividad tiene que ver sobre todo con elegir ciertas opciones de ciertas maneras; con cómo nos vemos a nosotros mismos y nos enfrentamos a las decisiones cotidianas, con las historias que nos contamos y los objetivos fáci...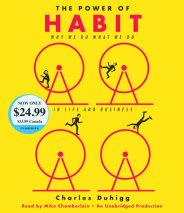 NEW YORK TIMES BESTSELLER • This instant classic explores how we can change our lives by changing our habits. NAMED ONE OF THE BEST BOOKS OF THE YEAR BY The Wall Street Journal • Financial Times In The Power of Habit, award-winnin...
NEW YORK TIMES BESTSELLER • From the author of The Power of Habit comes a fascinating book that explores the science of productivity, and why managing how you think is more important than what you think—with an appendix of real-world ...