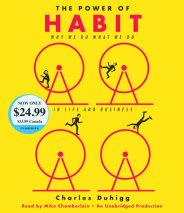 NEW YORK TIMES BESTSELLER • The perfect gift for anyone trying to start the new year off right, this instant classic explores how we can change our lives by changing our habits.

NAMED ONE OF THE BEST BOOKS OF THE YEAR BY The Wall Street Journal • Financial Times

In The Power of Habit, award-winning business reporter Charles Duhigg takes us to the thrilling edge of scientific discoveries that explain why habits exist and how they can be changed.
NEW YORK TIMES BESTSELLER • From the author of The Power of Habit comes a fascinating book that explores the science of productivity, and why managing how you think is more important than what you think—with an appendix of real-world lessons to apply to your life.