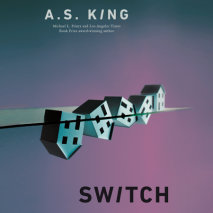 A surreal and timely novel about isolation and human connection from Michael L. Printz Award winner A.S. King.Time has stopped. It's been June 23, 2020 for nearly a year as far as anyone can tell. Frantic adults demand teenagers focus on finding prac...
Winner of the Michael L. Printz Medal★"King's narrative concerns are racism, patriarchy, colonialism, white privilege, and the ingrained systems that perpetuate them. . . . [Dig] will speak profoundly to a generation ...
A heartbreaking and mindbending story of a talented teenage artist's awakening to the brokenness of her family from acclaimed Printz award-winner A.S. King.Sixteen-year-old Sarah can't draw. This is a problem, because as long as she can remember, she...
Astrid Jones desperately wants to confide in someone, but her mother's pushiness and her father's lack of interest tell her they're the last people she can trust. Instead, Astrid spends hours lying on the backyard picnic table watch...
Lucky Linderman doesn't want to wake up. . . .  Lucky Linderman has been the target of Nader McMillan's relentless bullying for as long as he can remember. But he has a secret—one that helps him wade through the mundane torture...
Vera's spent her whole life secretly in love with her best friend, Charlie Kahn. And over the years she's kept a lot of his secrets. Even after he betrayed her. Even after he ruined everything. So when Charlie dies in dark circumstan...