Born in Los Angeles at the dawn of the 1960s to parents who quickly departed, Kathryn Harrison was received by her maternal grandparents as a late-life child. Harry Jacobs and Margaret Sassoon, true wandering Jews, had emigrated to L.A. after leading...
The profoundly inspiring and fully documented saga of Joan of Arc, the young peasant girl whose "voices" moved her to rally the French nation and a reluctant king against British invaders in 1428, has fascinated artistic figures as diverse as William...
A NEW YORK TIMES NOTABLE BOOKFrom Kathryn Harrison, one of America's most admired literary voices, comes a gorgeously written, enthralling novel set in the final days of Russia's Romanov Empire.   St. Petersburg, 1917. After Rasputin...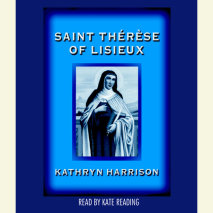 St. Therese of Lisieux, largely unknown when she died in a Carmelite convent at the age of twenty-four, became - through her posthumously published autobiography - one of the world's most influential religious figures. No less a luminary than Andre G...