#1 NEW YORK TIMES BESTSELLER • The world-famous cosmologist and author of A Brief History of Time leaves us with his final thoughts on the biggest questions facing humankind."Hawking's parting gift to humanity . . . a book every...
A New York Times bestseller! The historic race that reawakened the promise of manned spaceflightA Finalist for the PEN/E. O. Wilson Literary Science Writing Award Alone in a Spartan black cockpit, test pilot Mike Melvill rocketed toward spa...
Stephen Hawking has dazzled readers worldwide with a string of bestsellers exploring the mysteries of the universe. Now, for the first time, perhaps the most brilliant cosmologist of our age turns his gaze inward for a revealing look at his own life ...
THE FIRST MAJOR WORK IN NEARLY A DECADE BY ONE OF THE WORLD'S GREAT THINKERS—A MARVELOUSLY CONCISE BOOK WITH NEW ANSWERS TO THE ULTIMATE QUESTIONS OF LIFE When and how did the universe begin? Why are we here? Why is there something r...
FROM ONE OF THE MOST BRILLIANT MINDS OF OUR TIME COMES A BOOK THAT CLARIFIES HIS MOST IMPORTANT IDEAS   Stephen Hawking's worldwide bestseller A Brief History of Time remains a landmark volume in scientific writing. But for readers who hav...
Stephen Hawking's phenomenal, multimillion-copy bestseller, A Brief History of Time, introduced the ideas of this brilliant theoretical physicist to readers all over the world. Now, in a major publishing event, Hawking returns with a lavishly i...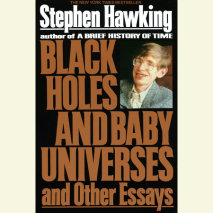 NEW YORK TIMES BESTSELLER • Thirteen extraordinary essays shed new light on the mystery of the universe—and on one of the most brilliant thinkers of our time. In his phenomenal bestseller A Brief History of Time, Stephen Hawking liter...