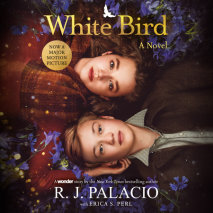 Now a major motion picture starring Helen Mirren and Gillian Anderson! Listen to the novelized version of the celebrated New York Times bestselling story of kindness and unrelenting courage in a time of war--inspired by the blockbuster phenomeno...
#1 NEW YORK TIMES BESTSELLER • Millions of people have fallen in love with Auggie Pullman, an ordinary boy with an extraordinary face—who shows us that kindness brings us together no matter how far apart we are. Read the book tha...
INSTANT NEW YORK TIMES BESTSELLER • NAMED ONE OF THE BEST CHILDREN'S BOOKS OF THE YEAR BY THE WALL STREET JOURNAL "Perfection." –The Wall Street Journal The bestselling author of Wonder returns with an enthralling adventu...
When the storm subsides and the sun comes out, don't forget to look for the rainbow!Inspired by kids across the country displaying rainbows in their windows, acclaimed illustrators come together to imagine everything these rainbows represent: caring ...
Inspired by her blockbuster phenomenon Wonder, R. J. Palacio presents an unforgettable story of the power of kindness and unrelenting courage in a time of war. In R. J. Palacio's bestselling collection of stories Auggie & Me, which expands o...
The New York Times bestseller that celebrates kindness, belonging, and friendship. Inspired by the unforgettable blockbuster book and movie Wonder, this is the perfect graduation gift for kids of all ages, plus a great choice for baby showers, birthd...