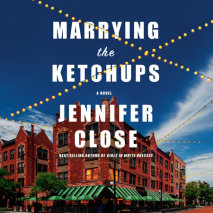 An irresistible comedy of manners about three generations of a Chicago restaurant family and the private jokes, ancient grudges, broken hearts, and deep, abiding love that feeds them all. Here are the three things the Sullivan family knows to be...
A brilliantly funny novel about ambition and marriage from the best-selling author of Girls in White Dresses, The Hopefuls tells the story of a young wife who follows her husband and his political dreams to Washington, D.C., a city of ...
With her best-selling debut, Girls in White Dresses (An "irresistible, pitch-perfect first novel" —Marie Claire), Jennifer Close captured friendship in those what-on-earth-am-I-going-to-do-with-my-life years of early adulthood. Now,...
Wickedly hilarious and utterly recognizable, Girls in White Dresses tells the story of three women grappling with heartbreak and career change, family pressure and new love—all while suffering through an endless round of weddings and bridal sho...