"A very funny and frequently insightful look at the world's most combustible region."—The New York Times Book ReviewNATIONAL BESTSELLERPulitzer Prize winning journalist Tony Horwitz's 1991 classic account of his travels across...
"A high-spirited, comic ramble into the savage Outback populated by irreverent, beer-guzzling frontiersmen." --Chicago Tribune"A fascinating insight into what we're all about on the highways and byways along the outback track." --...
The New York Times-bestselling final book by the beloved, Pulitzer-Prize winning historian Tony Horwitz.   With Spying on the South, the best-selling author of Confederates in the Attic returns to the South and the Civil War era for an...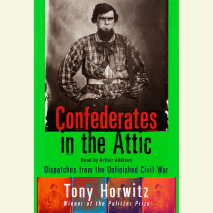 When prize-winning war correspondent Tony Horwitz leaves the battlefields of Bosnia and the Middle East for a peaceful corner of the Blue Ridge Mountains, he thinks he's put war zones behind him. But awakened one morning by the crackle of musket fire...
On a chance visit to Plymouth Rock, Tony Horwitz makes an unsettling discovery. A history buff since early childhood, expensively educated at university—a history major, no less!—he's reached middle age with a third-grader's g...