The New York Times bestselling saga of a most unusual family from the award-winning author of The World According to Garp."The first of my father's illusions was that bears could survive the life lived by human beings, and the second was ...
A special 40th anniversary edition of the bestselling coming-of-age classic novel by John Irving, with a new introduction by the author.  "He is more than popular. He is a Populist, determined to keep alive the Dickensian tradition tha...
In 1954, in the cookhouse of a logging and sawmill settlement in northern New Hampshire, an anxious twelve-year-old boy mistakes the local constable's girlfriend for a bear. Both the twelve-year-old and his father become fugitives, forced to ru...
Until I Find You is the story of the actor Jack Burns – his life, loves, celebrity and astonishing search for the truth about his parents. When he is four years old, Jack travels with his mother Alice, a tattoo artist, to several North Sea port...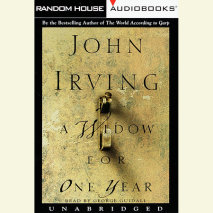 Ruth Cole is a complex, often self-contradictory character--a "difficult" woman.  By no means is she conventionally "nice," but she will never be forgotten.Ruth's story is told in three parts, each focusing on a crucial ...
#1 NATIONAL BESTSELLER • A NEW YORK TIMES NOTABLE BOOKWhile reporting a story from India, New York journalist Patrick Wallingford inadvertently becomes his own headline when his left hand is eaten by a lion. In Boston, a renowned surgeon eagerly...