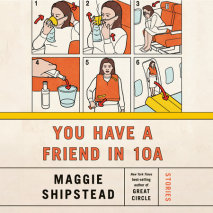 From New York Times best-selling author Maggie Shipstead, an irresistible collection of short stories—her first—that showcases her sparkling humor, irrepressible intelligence, and glorious affinity for the short form. In this collect...
NEW YORK TIMES BEST SELLER • SHORTLISTED FOR THE BOOKER PRIZE • A TODAY SHOW #ReadWithJenna BOOK CLUB PICK • The unforgettable story of a daredevil female aviator determined to chart her own course in life, at any cost—Great Circ...
From the author of the widely acclaimed debut novel Seating Arrangements, winner of the Dylan Thomas Prize and the Los Angeles Times Book Prize for First Fiction: a gorgeously written, fiercely compelling glimpse into the demanding world of prof...
Maggie Shipstead's irresistible social satire, set on an exclusive New England island over a wedding weekend in June, provides a deliciously biting glimpse into the lives of the well-bred and ill-behaved. Winn Van Meter is heading for his famil...