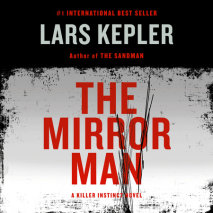 In the latest internationally best-selling installment of the Killer Instinct series, Detective Joona Linna is on the trail of a kidnapper who targets teenage girls and makes their worst nightmares a reality.Sixteen-year-old Jenny is abducted in broa...
INTERNATIONAL BEST SELLER • "A nonstop roller coaster of suspense, taking us deep into the hearts and minds of perfectly realized characters. And, oh, what a villain! ... The definition of a one-sitting read!" —Jeffery Dea...
ONE OF THE NEW YORK TIMES TOP TEN CRIME NOVELS OF THE YEARTen little rabbits, all dressed in white Tried to get to heaven on the end of a kite. Kite string got broken, down they all fell, Instead of going to heaven, they all went to... It b...
"Lars Kepler … [has] a taste for the macabre and a surefire recipe for the lurid serial-killer thriller. … This is not a book for anyone on heart medication. Kepler is a virtuoso at delivering scenes of suspense." &mdas...
The third installment of the #1 internationally bestselling Joona Linna series, The Fire Witness sees Joona drawn into a gruesome, mysterious murder at a home for wayward girls.Detective Joona Linna is on leave dealing with personal and professional ...
NOWHERE IS SAFE . . . NOT EVEN YOUR DREAMS.   Police discover the lifeless body of a young woman on an abandoned yacht. The next day, a man is found hanging in his apartment. When Detectives Joona Linna and Saga Bauer uncover a surprising connec...
YOUR MIND IS HIS PLAYGROUND.   A gruesome triple homicide. There's only one surviving witness—the boy whose family was killed before his eyes . . . and he can't remember what happened. The police are desperate for information. ...
"With its tight, staccato chapters and cast of dangerous wraiths lurking everywhere, The Sandman is a nonstop fright." —Janet Maslin, The New York TimesThe #1 internationally best-selling thriller from the author of...