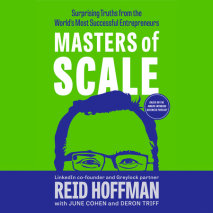 What can you learn from a Silicon Valley legend and a pantheon of iconic leaders? The key to scaling a successful business isn't talent, network, or strategy. It's an entrepreneurial mindset—and that mindset can be cultivated.Behind...
Foreword by Bill GatesLinkedIn cofounder, legendary investor, and host of the award-winning Masters of Scale podcast reveals the secret to starting and scaling massively valuable companies.What entrepreneur or founder doesn't aspire to build th...
Advisor of Leadership at Google and former vice president of leadership at LinkedIn claims that the biggest driver of motivation is the chance to serve a larger purpose beyond our careers and ourselves, rather than salary, benefits, bonuses, or ...
A blueprint for thriving in your job and building a career by applying the lessons of Silicon Valley's most innovative entrepreneurs. LinkedIn cofounder and chairman Reid Hoffman and author Ben Casnocha show how to accelerate your career i...