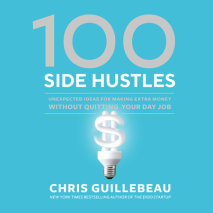 Best-selling author Chris Guillebeau presents a full-color ideabook featuring 100 stories of regular people launching successful side businesses that almost anyone can do. This unique guide features the startup stories of regular people launching sid...
A "freedom manifesto" for anyone wanting to break away from their unremarkable life--inspired by a blog sensation.If you've ever thought, "There must be more to life than this," The Art of Non-Conformity is for you.Based on Chris Guillebeau's popular...
The author of the New York Times Bestseller THE $100 STARTUP shows how to launch a profitable side hustle in just 27 days.  For some people, the thought of quitting their day job to pursue the entrepreneurial life is exhilarating.  For ...
A remarkable book that will both guide and inspire, The Happiness of Pursuit reveals how anyone can bring meaning into their life by undertaking a quest. When he set out to visit all of the planet's countries by age thirty-five, compulsive...
In The $100 Startup, Chris Guillebeau shows you how to lead of life of adventure, meaning and purpose – and earn a good living.   Still in his early thirties, Chris is on the verge of completing a tour of every country on earth – he&...