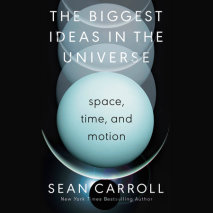 The most trusted explainer of the most mind-boggling concepts pulls back the veil of mystery that has too long cloaked the most valuable building blocks of modern science. Sean Carroll, with his genius for making complex notions entertaining, present...
Exploring the science in George R. R. Martin's fantastical world, from the physics of an ice wall to the genetics of the Targaryens and Lannisters.Game of Thrones is a fantasy that features a lot of made-up science--fabricated climatology (when is wi...
INSTANT NEW YORK TIMES BESTSELLERA Science News favorite science book of 2019As you read these words, copies of you are being created.   Sean Carroll, theoretical physicist and one of this world's most celebrated writers on science, r...
*An instant New York Times Bestseller**Publishers Weekly #1 Most Anticipated Science Book of Spring 2016*"You will be enthralled." — Wall Street Journal"A tour de force." — Salon.comAlready internationally acclaimed for his elegant, lucid...