The #1 bestselling author of The Future of the Mind traverses the frontiers of astrophysics, artificial intelligence, and technology to offer a stunning vision of man's future in space, from settling Mars to traveling to distant galaxies.

Formerly the domain of fiction, moving human civilization to the stars is increasingly becoming a scientific possibility--and a necessity.
Is our universe dying.
Could there be other universes.
In Parallel Worlds, world-renowned physicist and bestselling author Michio Kaku—an author who "has a knack for bringing the most ethereal ideas down to earth" (Wall Street Journal)—takes readers on a fascinating tour of cosmology, M-theory, and its implications for the fate of the universe.
NOW A #1 NEW YORK TIMES BESTSELLER

"Compelling….Kaku thinks with great breadth, and the vistas he presents us are worth the trip"
—The New York Times Book Review


The New York Times best-selling author of PHYSICS OF THE IMPOSSIBLE, PHYSICS OF THE FUTURE and HYPERSPACE tackles the most fascinating and complex object in the known universe.
Imagine, if you can, the world in the year 2100.

In Physics of the Future, Michio Kaku—the New York Times bestselling author of Physics of the Impossible—gives us a stunning, provocative, and exhilarating vision of the coming century based on interviews with over three hundred of the world's top scientists who are already inventing the future in their labs.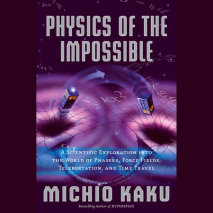 A fascinating exploration of the science of the impossible—from death rays and force fields to invisibility cloaks—revealing to what extent such technologies might be achievable decades or millennia into the future.

One hundred years ago, scientists would have said that lasers, televisions, and the atomic bomb were beyond the realm of physical possibility.