A prequel to the bestselling Merlin saga starring Shim, a young giant who must embark on a dangerous adventure when he's shrunk to the size of a man's knee. *"An excellent jumping-in point for new readers as well as pleasurable reading fo...
Winter's longest night is rapidly approaching as Merlin faces the most difficult challenge of his life: to unite all the people of Fincayra against an invasion by the evil Rhita Gawr. But how can one man, in two weeks' time, gather them all—the...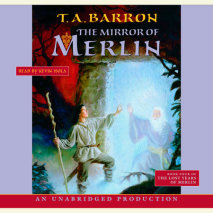 Strange wickedness is rising from a remote swamp on the magical isle of Fincayra. To save his homeland, as well as his own destiny, young Merlin must voyage to frightening places–both on the land and in himself. Joined by Hallia, the deer-woman...
Long ago, the great wizard Merlin planted the seed that would become the peaceful world of Avalon. Now, though, Avalon is suffering from mysterious droughts. And when the very stars begin to lose their light, it seems that the Lady of the Lake's dir...
The third audiobook in The Lost Years of Merlin series finds Merlin facing his greatest challenge yet in order to save the realm.Long ago on the magical island of Fincayra, the last emperor of the dragons took revenge against the realm for the slaugh...
Spat out by the sea, the boy lay on the rocks, as still as death. Even if he survived the day, he had no home. No memory. And no name. So begins the tale of the strange young boy, who having washed up on the shores of ancient Wales, is determined to ...
To save his ailing mother, young Merlin must master the Seven Songs of Wisdom passed down from his grandfather, a legendary wizard. Only then can he journey to the spiritual Otherworld to obtain the elixir he needs. But the quest involves a task Merl...