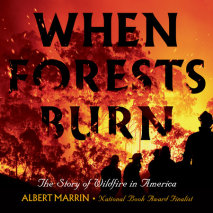 A fascinating look at the most destructive wildfires in American history, the impact of climate change, and what we're doing right and wrong to manage forest fire, from a National Book Award finalist. Perfect for young fans of disaster stories and na...
From National Book Award Finalist and Sibert Honor Author Albert Marrin, a timely examination of Red Scares in the United States, including the Rosenbergs, the Hollywood Ten and the McCarthy era.In twentieth century America, no power--and no threat--...
From National Book Award Finalist Albert Marrin comes the moving story of Janusz Korczak, the heroic Polish Jewish doctor who devoted his life to children, perishing with them in the Holocaust.Janusz Korczak was more than a good doctor. He was a hero...
From National Book Award finalist Albert Marrin comes a fascinating look at the history and science of the deadly 1918 flu pandemic--and its chilling and timely resemblance to the worldwide coronavirus outbreak.In spring of 1918, World War I was unde...
A Publishers Weekly Best Book of the YearA Booklist Editor's ChoiceOn the 75th anniversary of the bombing of Pearl Harbor comes a harrowing and enlightening look at the internment of Japanese Americans during World War II— from National Book Aw...
On March 25, 1911, the Triangle Shirtwaist Factory in New York City burst into flames.  The factory was crowded.  The doors were locked to ensure workers stay inside.  One hundred forty-six people—mostly women—perished; it ...