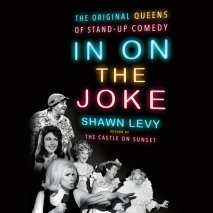 From bestselling author Shawn Levy, a hilarious and moving account of the trailblazing women who broke down walls so they could stand before the mic.Today, women are ascendant in stand-up comedy, even preeminent. They make headlines, fill arenas, spa...
The definitive—and salacious—history of the iconic hotel that Hollywood stars have called a home away from home for almost a century."Fascinating, dishy, and glimmering with insight.... This is the definitive book about Hollywood&rs...
REMARKABLE BIOGRAPHY OF AN ICON There's little debate that Robert De Niro is one of the greatest, if not the greatest, screen actors of his generation, perhaps of all time. His work, particularly in the first 20 years of his career, is unparallele...
Paul Newman, the Oscar-winning actor with the legendary blue eyes, achieved superstar status by playing charismatic renegades, broken heroes, and winsome antiheroes in such revered films as The Hustler, Cool Hand Luke, Butch Cassidy and the Sundance ...