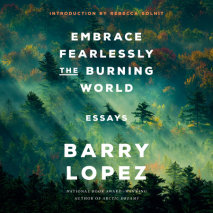 An urgent, deeply moving final work of nonfiction from the National Book Award–winning author of Arctic Dreams and Horizon, a literary icon whose writing, fieldwork, and mentorship inspired generations of writers and activists.  ONE OF THE...
Winner of the National Book AwardThis bestselling, groundbreaking exploration of the Far North is a classic of natural history, anthropology, and travel writing.The Arctic is a perilous place. Only a few species of wild animals can survive its h...
ONE OF THE BEST BOOKS OF THE YEAR:THE NEW YORK TIMES • NPR • THE GUARDIANFrom pole to pole and across decades of lived experience, National Book Award-winning author Barry Lopez delivers his most far-ranging, yet personal, work to...