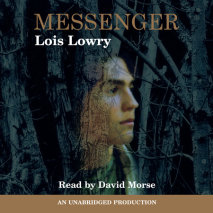 Critically acclaimed and bestselling author Lois Lowry returns with MESSENGER; the eagerly anticipated companion to Gathering Blue and The Giver, winner of the Newbery Medal.
Ten-year-old Annemarie Johansen and her best friend Ellen Rosen often think of life before the war. It's now 1943 and their life in Copenhagen is filled with school, food shortages, and the Nazi soldiers marching through town. When the Jews of Denmar...
Precocious Katy Thatcher comes to realize what a gentle, silent boy did for his family. He meant to help, not harm. It didn't turn out that way."The author balances humor and generosity with the obstacles and injustice of Katy's wor...
Lois Lowry's The Giver is the quintessential dystopian novel, followed by its remarkable companions, Gathering Blue, Messenger, and Son.Jonas's world is perfect. Everything is under control. There is no war or fear of pain. There are no choices...