The prizewinning historian and internationally bestselling author of D-Day reconstructs the devastating airborne battle of Arnhem in this gripping new account.On September 17, 1944, General Kurt Student, the founder of Nazi Germany's parachute forces...
The prizewinning historian and bestselling author of D-Day, Stalingrad, and The Battle of Arnhem reconstructs the Battle of the Bulge in this riveting new account On December 16, 1944, Hitler launched his 'last gamble' in t...
"Glorious, horrifying...D-Day is a vibrant work of history that honors the sacrifice of tens of thousands of men and women."—TimeBeevor's Ardennes 1944: The Battle of the Bulge is now available from Viking Books Renowned his...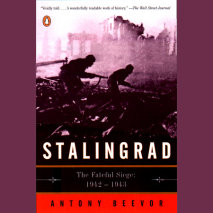 The Battle of Stalingrad was not only the psychological turning point of World War II: it also changed the face of modern warfareHistorians and reviewers worldwide have hailed Antony Beevor's magisterial Stalingrad as the definitive account of World ...