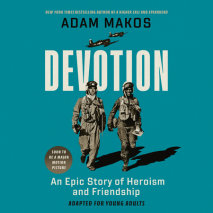 A young adult adaptation of the national bestseller that details the true story of two Navy pilots from divergent racial and economic backgrounds who forge a deep friendship during the Korean War as they face extraordinary circumstances. Soon to...
Adapted for young adults from the New York Times bestseller, a riveting and true WWII story of a young man--an American tank gunner--who meets his destiny in an iconic armor duel and forges an enduring bond with his enemy.Shut the hatches. It's time ...
From the bestselling author of A Higher Call and Spearhead comes an unflinching firsthand chronicle of the heroic US Marines who fought on Guadalcanal, Peleliu, Iwo Jima, and in other pivotal battles during the Pacific War, a classic book now ex...
THE NEW YORK TIMES, WALL STREET JOURNAL, LOS ANGELES TIMES, AND USA TODAY BESTSELLER "A band of brothers in an American tank . . . Makos drops the reader back into the Pershing's turret and dials up a battle scene to r...
THE NATIONAL BESTSELLER • SOON TO BE A MAJOR MOTION PICTURE • From America's "forgotten war" in Korea comes an unforgettable tale of courage by the author of A Higher Call. Devotion tells the inspirational story of t...