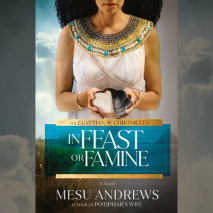 Thrust into an arranged marriage, the daughter of ancient Egypt's high priest plays a pivotal role in Joseph's biblical narrative in this powerful novel from the award-winning author of Potiphar's Wife.Four-year-old Asenath witnesse...
One of the Bible's most notorious women longs for a love she cannot have in this captivating novel from the award-winning author of Isaiah's Legacy."Mesu Andrews yet again proves her mastery of weaving a rich and powerful ...
In this epic Biblical narrative, ideal for fans of The Bible miniseries, a young woman taken into the prophet Isaiah's household rises to capture the heart of the future king.   Isaiah adopts Ishma, giving her a new name--Zibah, delight of...
The Hebrews call me prophetess, the Egyptians a seer. But I am neither. I am simply a watcher of Israel and the messenger of El Shaddai. When He speaks to me in dreams, I interpret. When He whispers a melody, I sing.At eighty-six, Miriam had devoted...
The drama of the Old Testament comes to life as Judah's most notorious king ascends to the throne in this gripping novel from the award-winning author of Isaiah's Daughter. At eight years old, Shulle has known only life in a small village with her lo...
The Old Testament book of Daniel comes to life in this novel for readers of Lynn Austin's Chronicles of the Kings series or Francine Rivers' Mark of the Lion series.FINALIST FOR THE CHRISTY AWARD®Survival. A Hebrew girl first tasted it when she ...