From the best-selling author of Bright Lights, Big City: a sexy, vibrant, cross-generational New York story--a literary and commercial triumph of the highest order.  Even decades after their arrival, Corrine and Russell Calloway still feel as if...
Combining the lyrical observation of F. Scott Fitzgerald with the laser-bright social satire of Evelyn Waugh, Jay McInerney gives us a novel that is stunningly accomplished and profoundly affecting. As he maps the fault lines spreading through t...
This new collection by the acclaimed novelist—and, according to Salon, "the best wine writer in America"—is generous and far-reaching, deeply knowledgeable and often hilarious.         &...
With the publication of Bright Lights, Big City in 1984, Jay McInerney became a literary sensation, heralded as the voice of a generation. The novel follows a young man, living in Manhattan as if he owned it, through nightclubs, fashion shows, editor...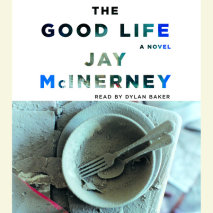 Hailed by Newsweek as "a superb and humane social critic" with, according to The Wall Street Journal, "all the true instincts of a major novelist," Jay McInerney unveils a story of love, family, conflicting desires, and catast...