Welcome to the better half of your life. The New York Times bestselling author of The Female Brain explains how a woman's brain gets "upgraded" in midlife, inspiring and guiding women to unlock their full potential."This ...
From the author of the groundbreaking New York Times bestseller The Female Brain, here is the eagerly awaited follow-up book that demystifies the puzzling male brain.Dr. Louann Brizendine, the founder of the first clinic in the country to study gende...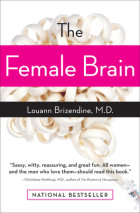 Since Dr. Brizendine wrote The Female Brain ten years ago, the response has been overwhelming. This New York Times bestseller has been translated into more than thirty languages, has sold nearly a million copies between ...