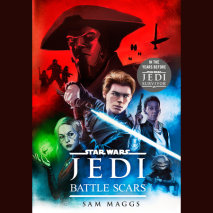 Cal Kestis leads the Mantis crew on an adventure set between Star Wars Jedi: Fallen Order and the highly anticipated Star Wars Jedi: Survivor.
Bestselling author Sam Maggs brings Nadia Van Dyne (the Unstoppable Wasp) and her genius friends to life in an all-new original YA novel based on the world of The Unstoppable Wasp Marvel comics series.Nadia Van Dyne is new to this. New to being a Sup...
A fun and feisty tour of famous girl BFFs from history who stuck together and changed the world.A modern girl is nothing without her squad of besties. But don't let all the hashtags fool you: the #girlsquad goes back a long, long time. In this hilari...
A fun and feminist look at forgotten women in science, technology, and beyond, from the bestselling author of THE FANGIRL'S GUIDE TO THE GALAXY You may think you know women's history pretty well. But have you ever heard of. . . &middo...
Fanfic, cosplay, cons, books, memes, podcasts, vlogs, OTPs and RPGs and MMOs and more—it's never been a better time to be a girl geek. The Fangirl's Guide to the Galaxy is the ultimate handbook for ladies living the nerdy life, a fu...