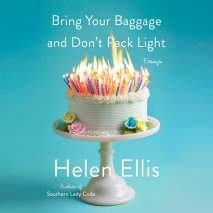 The bestselling author of American Housewife and Southern Lady Code returns with a viciously funny, deeply felt collection of essays on friendship among grown-ass women.When Helen Ellis and her lifelong friends arrive for a reunion on the Redneck Riv...
"I loved it." —Ann Patchett The bestselling author of American Housewife ("Dark, deadpan and truly inventive." --The New York Times Book Review) is back with a fiercely funny collection of essays on marriage and manners, thank-you not...
A sharp, funny, delightfully unhinged collection of stories set in the dark world of domesticity, American Housewife features murderous ladies who lunch, celebrity treasure hunters, and the best bra fitter south of the Mason Dixon line.Meet the women...