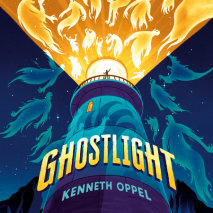 One teen's summer job scaring tourists with ghost stories takes a terrifying turn when he accidentally summons the spirit of a dead girl—and she has demands. . . . The award-winning author of Airborn delivers a roller-coaster ride of ...
The. Aliens. Are. Here. The heart-pounding conclusion to The Overthrow trilogy that began with Bloom and Hatch.The alien invasion of Earth is imminent. But maybe not all the aliens are united. A rebel faction has reached out to Anaya, saying there's ...
Fans left desperate for more at the end of Bloom will dive into this second book of the Overthrow trilogy--where the danger mounts and alien creatures begin to hatch.First the rain brought seeds. Seeds that grew into alien plants that ...
"The perfect book right now for young readers searching for hope, strength, inspiration — and just a little horticultural havoc."—New York Times The first book in a can't-put-it-down, can't-read-it-fast-enough action-thriller trilogy...
From the acclaimed author of The Nest, The Boundless, and Airborn comes a brilliantly funny, breakout book about a boy who discovers an ink blot that's come to life! Perfect for those who love Hoot and Frindle and sure to be a hit with kids everywher...