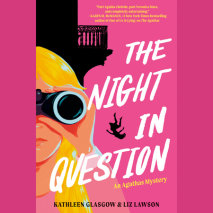 How do you solve a murder? Follow the lessons of the master—Agatha Christie! Iris and Alice find themselves in the middle of another Castle Cove mystery in the sequel to New York Times bestseller The Agathas, by powerhouse authors Kathleen Glas...
NEW YORK TIMES BESTSELLER • Who killed Brooke Donovan? It's the biggest mystery of the summer, and everyone in Castle Cove thinks they know what happened. But they're wrong. Two unlikely friends come together to solve the case in this fast...
A charming and inclusive YA anthology all about games—from athletic sports to board games to virtual reality—from editor Laura Silverman and an all-star cast of contributors.From the slightly fantastical to the utterly real, light and swe...
From the New York Times bestselling author of Girl in Pieces comes a stunning novel that Vanity Fair calls "impossibly moving" and "suffused with light". In this raw, deeply personal story, a teenaged girl struggles to find he...
From the New York Times bestselling author of Girl in Pieces comes a novel about love and loss and learning how to continue when it feels like you're surrounded by darkness that Karen M. McManus, the New York Times bestselling author of One of Us Is ...
For fans of Girl, Interrupted, Thirteen Reasons Why, and All the Bright Places comes a novel Nicola Yoon, author of Everything, Everything, calls "a haunting, beautiful, and necessary book that will stay with you long after you've read the last page....