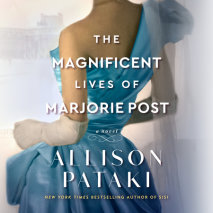 An epic reimagining of the remarkable life of Marjorie Merriweather Post, the American heiress and trailblazing leader of the twentieth century, from the New York Times bestselling author of SisiMrs. Post, the President and First Lady are here to see...
A sweeping novel about the extraordinary woman who captured Napoleon's heart, created a dynasty, and changed the course of history—from the New York Times bestselling author of The Traitor's Wife, The Accidental Empress, and Sisi"I ...
A deeply moving memoir about a couple whose lives were changed in the blink of an eye, and the love that helped them rewrite their future.Five months pregnant, on a flight to their "babymoon," Allison Pataki turned to her husband when he asked if his...
A rich and sweeping novel of courage, duty, sacrifice, and love set during the French Revolution from New York Times bestselling author Allison Pataki and her brother Owen Pataki Three years after the storming of the Bastille, the streets of Paris ar...
NEW YORK TIMES BESTSELLER • For readers of Philippa Gregory, Paula McLain, and Daisy Goodwin comes a sweeping and powerful novel by Allison Pataki. Sisi tells the little-known story of Empress Elisabeth of Austria-Hungary, the Princess...